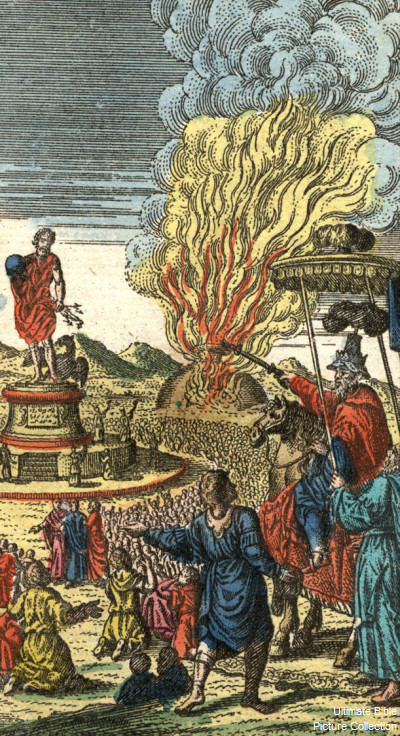 When Nebuchednezzar glorified himself by building a 90ft. high image and demanded that everyone bow to it and worship Babylon's gods, word got out that three young Jewish men, friends of Daniel the Prophet, had refused. According to the king's decree, any who did not worship his gods would be thrown into a fiery furnace. Their obstinance made the king irate and when he gave them one last chance, here is what they said:
"O Nebuchadnezzar, we do not need to give you an answer concerning this matter. 17 "If it be so, our God whom we serve is able to deliver us from the furnace of blazing fire; and He will deliver us out of your hand, O king. 18 "But even if He does not, let it be known to you, O king, that we are not going to serve your gods or worship the golden image that you have set up." – Dan. 3:16,17,18
The three were ready to die before they would bow to the giant golden image. They didn't even fake worship. Faking it would be worshiping it. Some might choose this route with hopes of living another day. But who knows if we have another day? If Shadrach, Meschach, and Abedniggo had chosen to escape, we would have one less example to look to and one less example of God's help. Nebuchednezzar threw the men into the furnace but they did not burn. They came out alive because God delivered them.
We learn from the book of Daniel that there is a line that God's people won't cross. For some, the line might be between preaching pop culture and the cross. For others, the line might be at work with the threat to keep your job or worship God. The line might be with a spouse who makes you choose him or God. And it might be with yourself where you choose either the world or Christ. For Daniel's friends and for us, in times like these we must choose God. Whether or not he delivers us from the immediate threat, we should ask which way three young men in Babylon would choose. The right choice is to be faithful to God and trust Him.
---
---
Categories: idols, Nebuchednezzar, trust God, worship